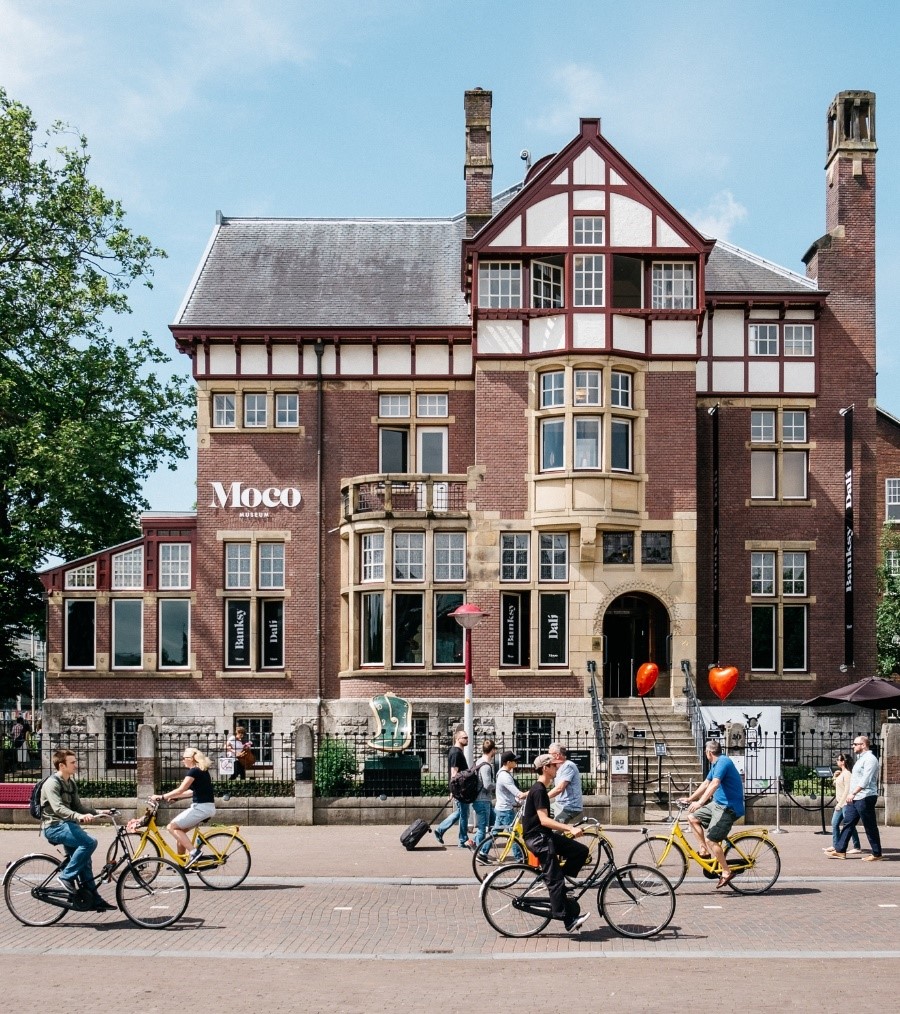 Ever heard of Moco museum? Well, Moco museum is a modern and contemporary art museum, hence the name Moco. If you're looking to see some awesome and creative street art Amsterdam, Moco museum is the place to be. At Moco museum, art fans can enjoy original modern art by unique artists. The diversity of the many artists featured in Moco museum makes for a wonderfully exciting museum with something for everyone. Not a big fan of Andy Warhol? Not to worry! There's bound to be at least one artist you like, like Frida Kahlo, Louise Bourgeois or Jean-Michel Basquiat.
What is Moco museum?
Moco museum is a modern and contemporary art museum in Amsterdam that features proven artists with unique visions. It features older artists like Yayoi Kusama, but also newer artists, like Studio Irma. Moco museum is located in Villa Alsberg. This is a townhouse that looks out over Museumplein, right in the heart of Amsterdam. It is truly a unique experience to visit Moco museum, or walk through the Moco garden. Yes, a garden! At this museum, you can both enjoy the art inside the mansion and enjoy the art and greenery in the garden around it. What's not to like?
Buy yourself or a friend something cool from the Moco webshop
Can't get enough of Moco and want to incorporate some of it into your daily life? Well, here's some good news for you! On the Moco website you can buy clothing, accessories and even art prints from the webshop. Get yourself an official Moco coffee cup or even your very own poster by Icy & Sot called Color Rain. You can also buy someone a Moco giftcard for free entrance to the museum. That way they can choose their own date and timeslot by using the code on their giftcard and their very own free time.
Booking your ticket
Easily book your own ticket to Moco museum by clicking "Book your ticket now" on the official Moco website. Simply put in however many tickets you want to book for adults, teens, kids from 0-12 or students and choose your date. Kids from 0-12 get to go for free! Are you or is someone you know a student? They get to go for only €12,50, just like teenagers. Of course, when your friend, significant other or a family member has already given you a Moco giftcard, all you need to do is fill in the code that's on your giftcard to choose your date.